Coronavirus Disinfection Service
The sanitisation service we provide has been developed to combat the risk of COVID-19 infection from surface transfer of coronavirus inside a property.
If you're concerned that someone either with COVID-19, or with symptoms of the disease has been in your property, and you are concerned about transfer of coronavirus from surfaces to other people, then we can help. Our sanitisation team and the cleaning product they use will leave the surfaces in your property disinfected and hygienically clean.
Once your property has been disinfected you're recommended to continue a process of regular cleaning to reduce the risk of infection. Surfaces that have been disinfected only remain so until the next time someone touches them. We're fully trade accredited and all of our cleaners are trained commercial hygiene specialists. We guarantee to only use medical grade disinfectants proven to work against viruses, bacterias and spores.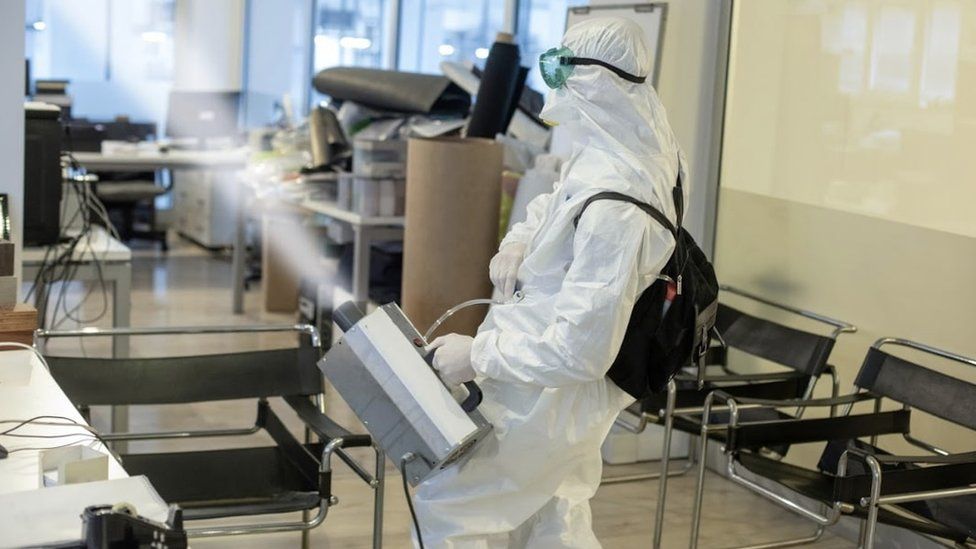 Surface transfer of coronavirus
Understanding the factors that effect how novel coronavirus and other viruses exists outside of someone's body can help us all reduce the likelihood of transfer and possible infection.
Bodily liquids, in the form of saliva and mucus, can be spread over 3 metres away when a person infected with COVID-19 coughs or sneezes without catching it in a tissue.
Depending on the type of surface within a property, viruses including coronavirus can exist outside a human body for several days. If conditions are right, it's reported that coronavirus could exist on indoor surfaces such as metal or plastic for anything up to 9 days.
It's believed coronavirus will exist on someone's skin for around 10 minutes. Although this might not seem much, it's plenty of time for the virus to be transferred to that person's mouth, nose or eyes and enter the body.
Our teams will clean all exposed surfaces as part of the disinfection service provide to combat the risk of coronavirus transfer. They'll pay special attention to frequent use touch points, such as door handles, lift buttons, push pads, hand rails and appliances. The disinfectant they use is also sprayed on fabrics, including curtains, sofas, cushions and carpets.