Whether your style is traditional, cottage, minimalist or contemporary, our designer will create the garden design to suite your personality and property. We start where the lawn ends and the garden begins. Spring and fall clean-ups, mulching, planting, edging, pruning, perennial division, design, installation and maintenance of flower beds.
We specialize in restoration and renewal of gardens and problem spots. Residential and commercial garden and landscape design, updates, soil enrichment, drainage improvements, sod installation and lawn seeding.
Design and installation of walkways, retaining walls, planters, water features. Provision and planting of trees, shrubs, ground covers, perennials, vines and ornamental grasses. Green walls and green roofs for beauty, energy conservation and water absorption. Power washing and sealing as well. Garden sitting for travelers and busy professionals. We compost whenever possible to enrich your soil and the environment we all share.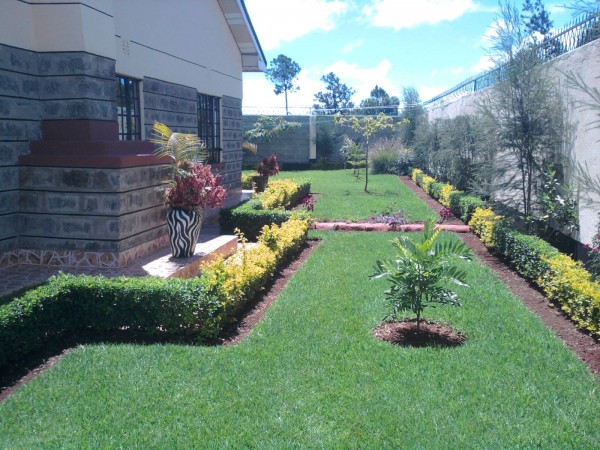 Our typical scope of work includes:
Outdoor Maintenance – We provide full-service programs for year-round garden maintenance. Our experienced landscaping crew can visit your garden on a weekly, monthly, or on quarterly basis.
Maintenance visits typically include pruning, fertilizing, treating plants for insects or disease, mulching, weeding, and general clean-up.
Indoor plant Maintenance – We also have indoor plant experts on staff to clean and water indoor and office plants on a regularly-scheduled basis.
Lawn mowing service – we provide the most affordable and top-rated professional lawn mowing & lawn care services in Nairobi. Call us today.
Gardening & Landscaping Services – We begin the process with a personalized consultation to determine what the needs of your landscape are and the unique conditions of your site.
Flower Arrangement services – We provide the widest range of local and imported fresh flowers from Roses, Tulips, Lilies, Sunflowers, Orchids, Sympathy Floral Arrangements, Preserved Roses and unique giant bouquets